10jun6:00 pm9:00 pm2023 University of Toledo Pride Youth Prom
Event Details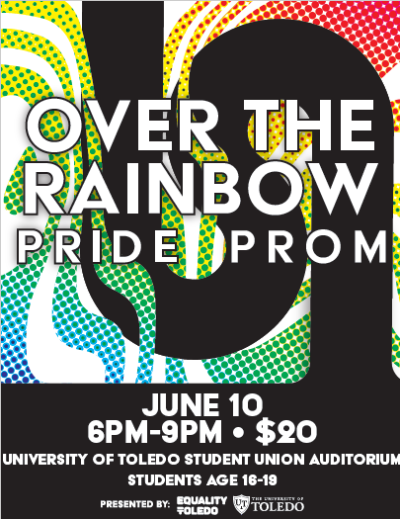 2023 Pride Youth Prom
Saturday, June 10th, 2023 6 p.m. – 9 p.m.
University of Toledo Student Union Auditorium
2965 W Centennial Dr, Toledo, OH 43606
Attendees: Any lesbian, gay, bisexual, transgender, non-binary, queer and allied identified people between the ages of 16 – 19
I understand that in order to attend I must submit the following items and review the rules for entry:
Present Photo Identification (School ID is acceptable)
Signed Prom Code of Conduct
$20 Entry Charge
Frequently Asked Questions About Toledo Pride Youth Prom 2023
Who Can Attend This Event? 
The Toledo Pride Youth Prom is open to everyone under the rainbow including straight allies! However:
Toledo's Pride Youth Prom is open to ONLY 16 – 19 year old High School students as well as homeschooled students, graduating no later than summer of 2023. 

Registration online or at the door is required to attend this event, with student ID or homeschool confirmation. For the safety of some of the youth attending this event, parents and/or guardians are not allowed to enter the prom space. 
 WHY QUEER YOUTH PROM?
Many schools expect students to adhere to cis-heteronomative standards of dress and expression at prom. We know that some LGBTQIA+ and gender expansive youth don't fit these molds when it comes to self expression. Additionally, many students are bullied in school and have to be home-schooled, so they miss their prom, or maybe their prom experience through their school is not so LGBT-affirming. At the Toledo Pride Youth Prom, you are welcomed to dance the night away and bring whomever you want (as long as they're 16-19 and graduated high school no later than Summer 2023) and wear whatever you want! This is your night to enjoy prom to the fullest! The only requirement is to have fun!
I IDENTIFY AS A GUY, DO I HAVE TO WEAR A TUX?
NOPE! This is your night! You can wear whatever you want! If you want to come in cosplay, jeans & T-shirt, or in a costume that is on theme, that is fine too!
I'M NOT OUT TO MY GROWN UPS YET, IS IT SAFE TO COME?
YES! When you arrive at the venue, there will be NO signage or anything Queer/Rainbows/Pride around. There will be signs for a "Prom" leading from Lot 13 to the building entrance, and an adult will be outside if you need us to talk to your grown ups! Some folks even come to Prom in jeans and t-shirts and change into their prom outfit and change back out at the end of the night! Just remember all bags may be checked. If you have any questions, please feel free to reach out!
I AM SHY AND GET SOCIAL ANXIETY, IS THIS EVENT RIGHT FOR ME?
YES! We offer a space space for EVERYONE! At the Youth Queer Prom, we will have a section where you can enjoy prom night in a quiet and relaxing way. Our staff and volunteers are also trained to deal with any anxiety situations that might come up.
CAN MY MOM OR DAD COME TO QUEER YOUTH PROM?
Sorry, no moms or dads allowed. This event is for 16 – 19 year old High School youth. All adults allowed in this event have been trained to work with youth and have passed a background check. If your parents have any questions, feel free to reach out to us or speak to one of our staff members at the check in table. We will also have onsite security.
I HAVE A SPECIAL DIET, WILL THERE BE VEGAN OR GLUTEN FREE FOOD AT PROM?
YES! We will offer something for everyone to enjoy. A full meal is not provided, but there will be hand-helds, dips, fruits, veggies, and desserts. 
I DON'T WANT MY PICTURE TAKEN. WILL THERE BE ANY PHOTOGRAPHERS I NEED TO WORRY ABOUT?
There will not be photographers taking photos of this magical event, HOWEVER there will be a designated photo booth area. In this marked area, please understand that photos may be taken. Students, please be mindful of others and consent before uploading photos to any social media. 
WHAT ARE MY TRANSPORTATION/PARKING OPTIONS FOR GETTING TO AND FROM THE EVENT?
Please park in Lot 13, which is uncharged after 5pm on Saturdays. For drop off or to get close to Lot 13, you should enter "Memorial Field House" into google maps to arrive at the drop off location. Upon arrival, you will see Prom signs and an adult volunteer. 
ARE THERE VOLUNTEER OPPORTUNITIES FOR THESE EVENTS?
Not at the moment, but we are still accepting restaurant food donations for the event. The Prom planning committee consists of members of Equality Toledo, the NW Ohio LGBTQ+ Coalition, Toledo Pride, Woodward HS Students, University of Toledo Office of Diversity, Equity and Inclusion, and other community members. If interested in assisting with next year's event, email boardchair@equalitytoledo.org 
THIS IS MY CHILD'S FIRST QUEER YOUTH PROM, HOW CAN I KNOW THIS EVENT IS SAFE?
The safety and well-being of all of our attendees is one of our main priorities. While we can not post all measures we take to make this event possible due to security reasons, rest assured your child is safe attending this event. When you are dropping off your child, our staff will be at the door answering any questions you might have. All volunteers have undergone background checks. For any additional questions you may have prior to this event, please contact Joe, the event coordinator for this event at email  boardchair@equalitytoledo.org , or if ahead of the event at 419-540-8424.
IF MY CHILD IS ATTENDING QUEER YOUTH PROM, CAN I STAY AS A PARENT AND WATCH THEM?
This event is designed to let youth be themselves in a safe environment, therefore parents are NOT allowed inside the prom venue. You may stay near campus or hangout at one of the nearby restaurants. However, we do invite you to attend Toledo Love Fest downtown on July 15th (family friendly)!
WHO DO I GET IN CONTACT WITH FOR MEDIA INQUIRIES ABOUT THIS EVENT?
For media inquiries about this event, please contact Joe, the event coordinator for this event at email boardchair@equalitytoledo.org 
HOW MUCH ARE TICKETS TO QUEER PROM?
Pride Youth Prom is $20, and we hope many can register and pay online! Depending on registration numbers, registration tickets will be available at the door. Thanks to our fabulous sponsors and donors, a limited number of sponsorship tickets are available. If interested, fill out the survey at registration! 
MY QUESTION WAS NOT LISTED HERE, WHO DO I ASK MY QUESTION?
We are sorry your question did not show up here. Please email us your question at boardchair@equalitytoledo.org and we'll reach out to you!
Time

(Saturday) 6:00 pm - 9:00 pm