Our Vision
Equality Toledo (ET) began as a response to the passage of Ohio's Issue One amendment in November 2004, which made it unconstitutional for the state to perform or recognize same-sex marriages or civil unions. The founding members were actively involved in opposing Issue One and educating communities about the consequences of its passage. Despite the diligent efforts of concerned citizens, the Issue One amendment became Article 15, Section 11 of the Ohio Constitution. The amendment passed because of the lack of an effective statewide coalition in the lesbian, gay, bisexual and transgender community and its allies. ET was formed to address this deficiency. Since that time a lot has been accomplished for the LGBTQ communities in the Greater Toledo Area, including the Supreme Court ruling in favor of marriage equality on June 26, 2015.  However, there is still work to be accomplished.
The LGBTQ community in Toledo and around the nation witnessed profound changes   over the last few years. The legal, cultural and political landscape is different now than it was when ET developed its most recent Strategic Plan in 2013.  Today, marriage equality is the law of the land, more Americans support full equality and justice for LGBTQ people than ever before, and transgender rights are front and center in the national discourse for the first time in history.  However, LGBTQ people still face discrimination and inequality under the law in most states, including our own. Like many other LGBTQ organizations, ET has been working hard to adapt to the new landscape and decided to move forward with a new Strategic Plan.  
Many of the objectives that were included in the 2013 plan have been achieved, including increasing membership, providing more educational and social opportunities and engaging more effectively in the political sphere. ET now must move to the next level, which is the impetus for this new Strategic Plan.
The planning process was initiated in early 2016 and included feedback from members, personal stakeholder interviews and many thoughtful conversations among board and staff members. After distilling all the data, the board of directors identified three main objectives and developed the following three-year plan for ET.
OBJECTIVES
INCREASE AND DIVERSIFY RESOURCES AND REVENUE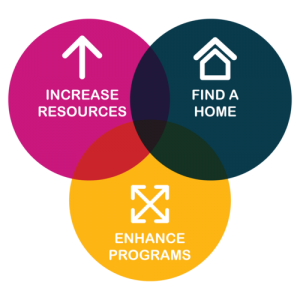 Paramount to ETs success in continuing and expanding its breadth of service to our area's LGBTQ community is our ability to identify, foster, and sustain reliable and consistent sources of funding. For the past 10 years, ET has been able to live its mission statement largely through the generosity and support expressed through individual donor contributions, grant funding, in addition to monetary gifts from other non-profit organizations and our annual fundraisers. With these financial resources, ET has been able to position itself in the community and sustain its impactful operations. However, as we look to the future through the lens of our strategic planning efforts, we recognize the need to adopt a resource development model that not only sustains but also cultivates capacity for growth.
For any non-profit organization with a growth agenda, individual donor gifts and non-programmatic grant funding are table stakes. Our efforts to find sustainable funding from those avenues will not cease. However, we now find ourselves in a position where we are challenged to look beyond our traditional methods of funding and seek-out alternative avenues for revenue growth. We believe a significant opportunity lies in funding from our community's corporate and business partners. Their goal of attracting and retaining talent in Toledo aligns with our goal of making Toledo a welcoming, safe, and inclusive community. By developing these symbiotic relationships, ET will have a new forum in which it can demonstrate the positive impact that it has and will continue to have on the community and on their employees who call the Toledo-area "home." We believe that drawing increased visibility to the kind of value that our organization brings to Toledo has the potential to translate into on-going financial support of the ET mission and vision from local like-minded business partners. The caveat to pursuing this route will be for ET to make clear that a financial gift from any corporation does not carry any obligation for ET to be beholden to such donors.
Lastly, consistent with our goal of positioning ET as a brick-and-mortar operation in Toledo's Uptown District, we feel that it is imperative that we commence a capital campaign so that we may obtain a space. The Board and staff of ET will work together to effectively allocate resources necessary to achieve this goal.
DEVELOP A TOLEDO LGBTQ HEADQUARTERS
Equality Toledo has been committed to serving Toledo's LGBTQ population. As we continue to grow and expand our services, a physical space becomes increasingly integral to our work . A space of our own can offer a central location for people to gather for events, meetings, and support. The space will be a symbol of our viability, strength and compassion. It will signal a  long term commitment to serving the area LGBTQ population.
Ideally the space will be located in the Uptown District of Toledo, as some of our stakeholders preferred. The space could provide offices for the staff of Equality Toledo and house and support the work of other LGBTQ organizations in our area. Offering a space for marginalized people to interact safely is key to the progress of our local movement.
ENHANCE OUR SERVICES AND SERVICE AREA
A common theme gleaned from stakeholder interviews was that our community would like to see more from Equality Toledo in relation to the services we provide and the people we serve. It is also clear to us that we need to expand geographically the work that we currently do. ET will continue the education and advocacy work we do in schools and universities, hospitals, social service agencies, community organizations, and businesses around the community as well as exploring how to expand into new spaces. ET will partner with like minded organizations in the Northwest Ohio area to provide resources to the LGBTQ community. We recognize the importance of this work and will work towards increasing our capacity to provide more services to the community.
Our service expansion will include utilizing ET as an incubator. People request various services, clubs, activities, and more from ET. Often times we don't have the capacity to fulfill all of the requests in an effective manner. Our goal as an incubator is to facilitate, guide, and provide resources to make these requests happen. Once a space is a reality, we will be able to offer a launching pad for the ideas that people want to see through.
In addition, we see the space as an opportunity to house services that can cause discomfort to LGBTQ people. We will look into providing offices for counseling services, health care referrals, and support services. We will do this work in partnership with various organizations in the area who are welcoming to Toledo's LGBTQ population.
Lastly, our expansion will include being committed to work in outlying areas that surround Toledo. We've been fortunate enough to work with the City of Toledo to add protections for its LGBTQ population and we seek to do the same with municipalities that surround our fair city.
Equality Toledo has come a long way since its inception in 2004. We recognize the challenges moving forward and are committed to accomplishing the three goals laid out in this strategic plan over the next three years. All of these goals seem distinct but we cannot achieve any of them without achieving all of them and we cannot do any of this without you.