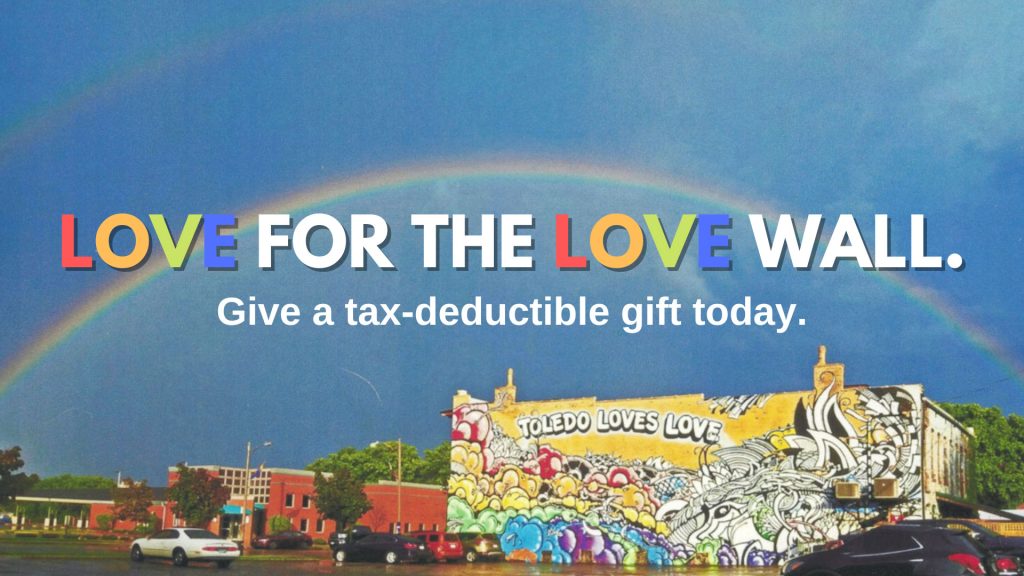 Love for the Love Wall 
One of Toledo's most visually iconic locations needs restoring, and we are looking to the community for help. 
For a decade now, the Toledo Loves Love Wall has stood as a symbol of LGBTQIA+ love and belonging in our community. Over the years, this mural has served as an intersectional backdrop for numerous movements in Toledo. Whether it be LGBTQIA+ events, Toledo Women's March, Black Lives Matter March, etc. 
Like all things with time, the wall has begun to chip and wear away, and is in desperate need of restoration. Luckily, the original artists of the wall (Mr. Taylor and MEDE) have agreed to help Toledo give the Love Wall some love on its 10-year anniversary. To compensate these talented artists for their work, as well as leverage the needed tools, materials, equipment and lighting — the restoration in-full will cost $15,000. 
Today, we are asking the community to help Equality Toledo raise the funds needed for restoration (gifts are tax deductible), because we know that the Toledo Loves Love Wall means something special to each one of us. Any gift you can give makes a difference, and together, we can help the Love Wall continue to stand as a hopeful symbol for years to come. #ToledoLovesLove
HISTORY OF THE WALL 
In the Summer of 2012, before same-sex marriage was legal and recognized in every state, Toledoan Rachel Richardson's best friend, Lucas County's Domestic Violence Prosecutor Rebecca Facey, married BGSU Instructor Angie Carriker. Their wedding was in Michigan and the couple then traveled to New York City for a legal marriage license. The Love Wall was a wedding gift to the pair, and a declaration that in Toledo, we love and support all love. 
A special thank you to the original organizer, Rachel Richardson, and George Thompson, owner of Georgjz419 Food, Fun, and Spirits, for coordinating this amazing effort!